March 20, 2014
Dates have been a staple food in the Middle East for millennia.  Paintings from long lost civilizations bear images of people harvesting dates.  With such a long history, dates and date palms are firmly rooted in the cultures of the Middle East.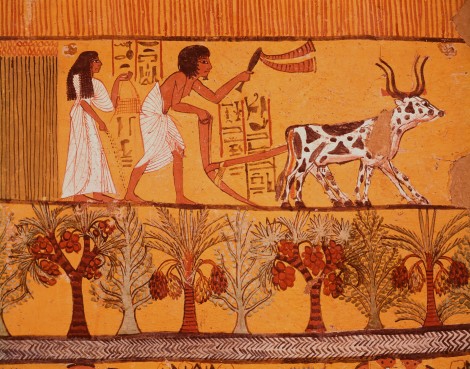 Ancient Egyptian Fresco of Husband and Wife Plowing Fields
With a high sugar content and nutritional value, dates have a wide range of uses.  They can be eaten fresh or dried, and they can be processed into a number of other goods.  Syrups, vinegar, spreads, and jaggery (a type of sugar) are all made from dates.
Date palm leaves hold a very important role in the Middle East and its history.  In ancient Mesopotamia and ancient Egypt, palms represented fertility and long life.  Palm fronds later became part of the Christian tradition, as it is believed that palm branches were laid before Jesus as he rode into Jerusalem.  Date palm fronds are also used in the Jewish holiday of Sukkot.
Date City in Buraidah
Dates have a very special place in the Muslim faith.  Muslims fast for a month during Ramadan (read CTblog: Ramadan Mubarak to learn about Ramadan) ; when breaking this fast, it is customary to eat three dates.  It is written in the Quran that the Prophet Muhammad broke his fast in this way.
The date palm tree itself is also important in Islam.  It is believed that the first mosque was built as a roof placed on palm trees.  Islamic tradition also states that there are many palm trees in paradise.
In modern times, dates and date palms are ubiquitous across the Middle East.  There are markets filled from wall to wall with dates and products made from date palms.  Despite the constant changes to the world economy, dates have held strong as an important part of Middle Eastern life.
If you want to learn more about Dates, practice your Arabic by reading Small Wonders Level 3: Dates.
Teaching Tips and Activities:
Want to share more information about dates and their cultivation with your students?  Here are two videos that discuss how dates are grown and harvested.  They also explore how dates and date palms are used in daily life.  These videos would be a great tool for introducing dates to your students!
Feast of Dates:
Motaleb grows Saudi dates (খেজুর) in Bangladesh: