Integrated Chinese, Volume 3, ChengTsui Web App™ Edition
Description
Educators can request a trial of Integrated Chinese Volume 3 on the ChengTsui Web App here.
Integrated Chinese is available as a fully integrated online course on our digital learning platform, the ChengTsui Web App™. Students can access interactive versions of the textbook and workbook, complete with streaming audio, streaming video, note-taking tools, a printable character workbook, and more.
In the Web App, teachers can access all of the materials included in the teacher's resources. Rostering and assignment creation tools make it easy to manage and give homework to multiple classes, and the workbook's autograding feature saves teachers time and energy. The result is a fun and effective digital teaching and learning experience for everyone. 
The Integrated Chinese Web App Edition is available in the five subscription levels below: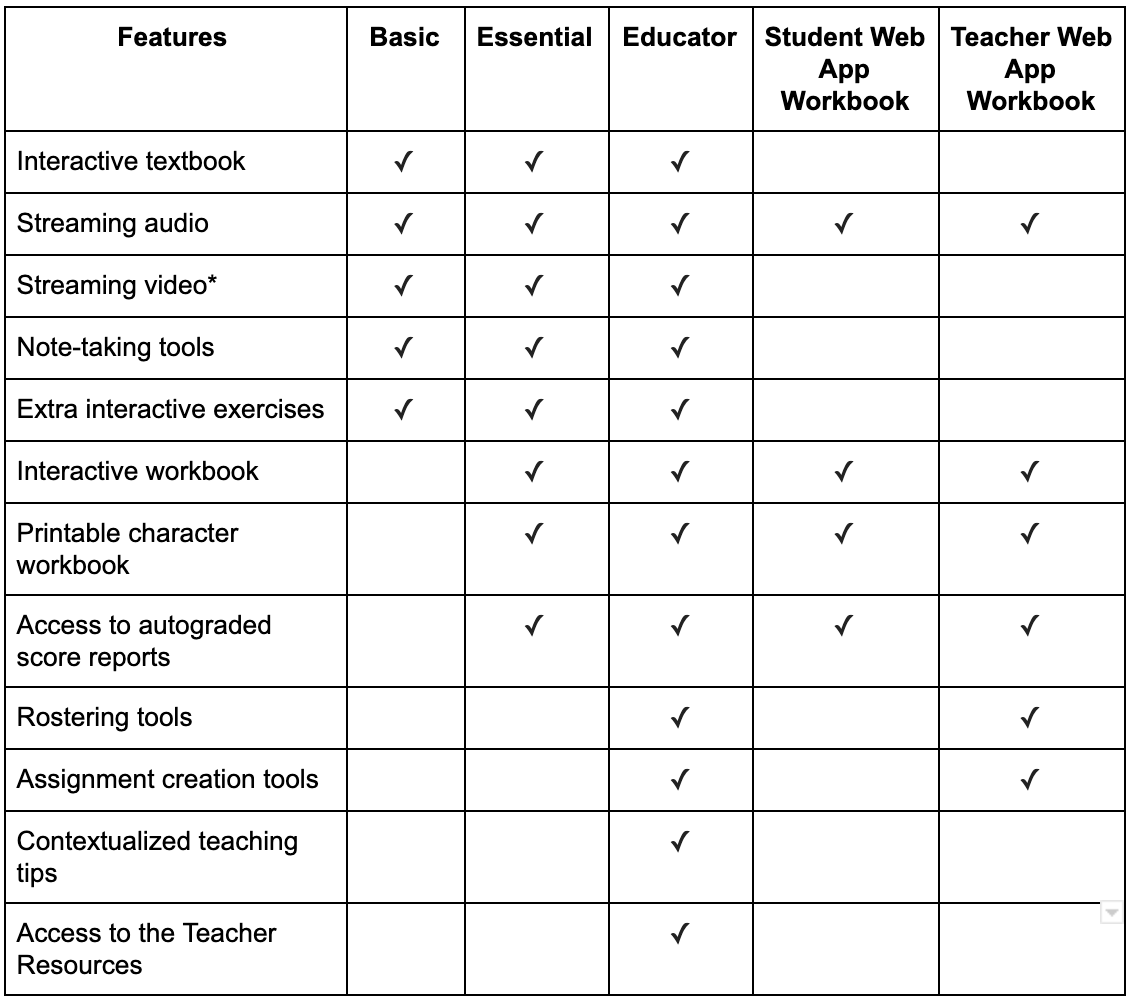 Please note that Student and Teacher Web App Workbooks are only available as 1-year subscriptions and are non-transferrable between students.
To view the ChengTsui Web App™ system requirements, click here. 
About the Series
Integrated Chinese is an acclaimed Mandarin Chinese textbook series that teaches beginning language learners the skills they need to communicate effectively in Chinese. First published in 1997, it has become the most widely adopted Chinese language textbook series in North America and beyond. Now in its 4th Edition, the time-tested series has been carefully revised to meet the needs of today's learners.
Integrated Chinese is a four-volume series designed to cover two years of study at the college level. The series' holistic pedagogical approach ensures that students with no prior knowledge of Chinese concurrently develop and strengthen their listening, speaking, reading, and writing skills. Students who complete the series progress from novice-low to intermediate-high levels of proficiency, building a firm foundation for further study.
One of the calling cards of Integrated Chinese is its cohesive system of print and digital resources: each volume includes a Textbook, Workbook, Character Workbook, Teacher's Resources, and free audio downloads. The 3rd Edition DVDs can be used with the 4th Edition.
The 4th Edition of Integrated Chinese is also available as a fully integrated, multimedia-rich digital course on the ChengTsui Web App™.